Chardonnay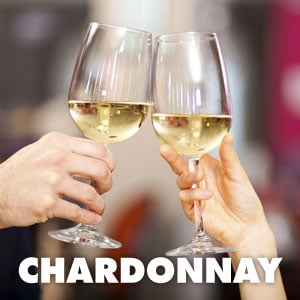 Shop for Chardonnay
Simply put, Chardonnay is the world's most planted white wine grape and maker of the most popular white wines in the world. France and California are the largest producers of Chardonnay wines (both regions producing noticeably different styles), but it can be found growing in many other regions across the globe as well.
More often than not, Chardonnay is made into a dry table wine, but it is also the principle grape used in the production of many sparkling wines. In raw form, Chard is deemed neutral, capable of clearly expressing any number of vinification techniques and terroir effects.
Shop our huge selection, featuring some of the world's best chardonnay wines, at WineTransit.com
View wines from specific regions:

View popular grape types:

Spain has 2.9 million acres of vineyards and is the most widely-planted wine-producing nation. There are 400 varieties of grapes with 80% of production originating from 20 grape varieties including Tempranillo, Albarino, Garnacha, Mencia, Palomino, Macabeo, Xarel-lo, and Monastrell. Some of the major wine regions include Rioja, Ribera del Duero, Toro, Jerez, and Priorat.

Under Roman rule, Spanish wine was sold throughout the Roman Empire and wine production continued during the rule of the Moors. Following the Spanish Reconquesta, exportation of Spanish wines continued with Spanish missionaries and conquistadors bringing European vine stock to the New World.

In the late 19th century, the sparkling wine industry (Cava) began and by the 20th century, Cava production rivaled that of Champagne. Civil and political upheaval and two world wars adversely affected the Spanish wine industry, but the 1950's brought with it a revival. In the 21st century, Spain is now considered a serious wine-producing country and home to many extraordinary values. Famous Brands to look for include Vega Sicilia, Pesquera, Clos Mogador, Clos Erasmus, Segura Viudas, Muga and Castano.
750 ml.

Spain

Item #29002

Compare:

$14.99

You save: $4.02

2010 / 750 ml.

Spain | La Mancha

Item #30219

Compare:

$7.99

You save: $3.02