Shiraz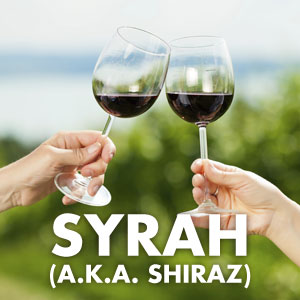 Shop for Syrah (Shiraz)
Syrah, or Shiraz, is most popularly known these days as the benchmark grape of Australia's wine boom in the late 1990's. Indeed, you'll still find some of the world's best Syrah wines (and best wines, in general), such as the legendary Penfolds Grange, in Australia. But, Syrah's modern history begins and continues in France's Northern Rhône region, where it's the primary grape in blends from Cornas, Crozes-Hermitage, and other celebrated districts. You'll also find terrific Syrah wines from California, South Africa, Chile, and other regions.
Much like cabernet, Shiraz (Syrah) creates robust, deeply-colored wines that are rich and extraordinary. Often quite tannic and with a weighty mouthfeel, you'll want to pair Syrah wines with red meats like lamb and venison, or barbecued foods with a good char.
Choose from hundreds of Syrah wines here at WineTransit.com!
View wines from specific regions:

View popular grape types:

Spain has 2.9 million acres of vineyards and is the most widely-planted wine-producing nation. There are 400 varieties of grapes with 80% of production originating from 20 grape varieties including Tempranillo, Albarino, Garnacha, Mencia, Palomino, Macabeo, Xarel-lo, and Monastrell. Some of the major wine regions include Rioja, Ribera del Duero, Toro, Jerez, and Priorat.

Under Roman rule, Spanish wine was sold throughout the Roman Empire and wine production continued during the rule of the Moors. Following the Spanish Reconquesta, exportation of Spanish wines continued with Spanish missionaries and conquistadors bringing European vine stock to the New World.

In the late 19th century, the sparkling wine industry (Cava) began and by the 20th century, Cava production rivaled that of Champagne. Civil and political upheaval and two world wars adversely affected the Spanish wine industry, but the 1950's brought with it a revival. In the 21st century, Spain is now considered a serious wine-producing country and home to many extraordinary values. Famous Brands to look for include Vega Sicilia, Pesquera, Clos Mogador, Clos Erasmus, Segura Viudas, Muga and Castano.