France
View wines from specific regions:

View popular grape types:

The French did not invent winemaking. They simply perfected it. For centuries, France has been producing wines that inspire poetry, awe, and wonder; wines that blur the lines between nature, craftsmanship, cuisine and art. These are the wines that inspired cultures around the globe to follow in France's footsteps, planting Cabernet Sauvignon, Pinot Noir, Chardonnay, Sauvignon Blanc, Syrah, Grenache, Merlot, Semillon and more.

Yet as often as they are emulated, the magic of their terroirs can never be duplicated. You may taste Cabernet from around the world, but perhaps none as elegant and regal as Bordeaux. You may try Pinot Noir or Chardonnay from various climates, but none with the earth-bound soul and ethereal reach of Burgundy. You may drink sparkling wine from many countries, but there is only one Champagne. Likewise, the Syrah of the Northern Rhône and the Malbec of Cahors are unlike any expression of those grapes you will find in California, Argentina, Australia or elsewhere. And let us not forget Alsace, which sets the international standard for Riesling, Gewurztraminer and Pinot Gris, or the Loire Valley and its one-of-a-kind Chenin Blanc and Cabernet Franc.

It may take a relatively short time to learn about these regions and grape varieties, but a lifetime to understand them.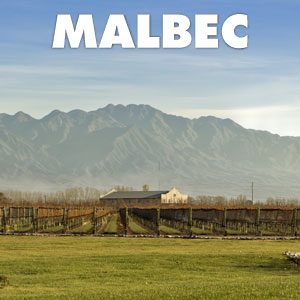 Shop for Malbec
Côt, Pressac, Auxerrois...Malbec wears numerous hats throughout the wine regions of France. In Bordeaux, Malbec is one of the five permitted red grapes, where it is grown in small quantities and used sparingly to add structure and color to the blend. In Southwest France, Malbec is the most widely planted grape of the Cahors region.
While France has many names for it and other regions/countries like California, Australia, and South Africa grow Malbec, it's in the high altitude vineyards and dry climate of Argentina that Malbec wine outclasses most of these other variants, including those from France. The grape thrives just about anywhere in that arid, sunny land, producing wines that are as approachable as a juicy Merlot, though they may also be as structured and long-lived as a Cabernet Sauvignon. Full-bodied and packed with blackberry, dark cherry, olive, mulberry and plum, and sometimes laced with a dash of mocha, vanilla or tobacco, Malbec wine is anything but a skimpy red.