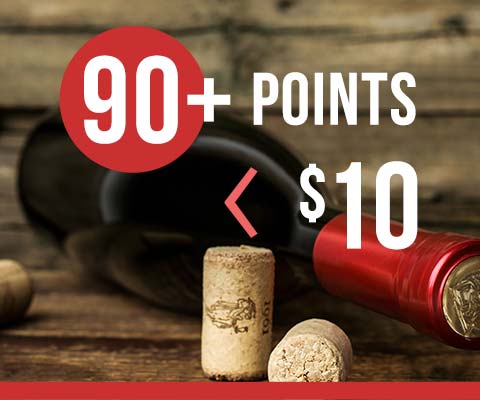 Looking for deals? We've compiled a list of some of our highest rated wines for under $10 to make your on-line shopping easy. Take advantage of our new curbside pickup or stock up and receive free delivery on orders over $150 (restrictions apply).
Sterling Vintner's Collection Pinot Noir

current vintage / 750 ml. | Item#18547

Primary Grape: Pinot Noir | All Grapes: Pinot Noir

Not Shippable. Western New York Local Delivery and In-Store Pickup only. Learn More Sorry, this item is not available for shipment outside of the Western New York area. Either the bottle is too large for our packaging (i.e. we cannot ship anything larger than 750 ml), the dimensions/shape of the bottle doesn't fit within our packaging for safe shipment, or this is a widely-distributed wine (e.g. Barefoot, Yellow Tail, etc) which we only sell at our physical store or for in-store pickup.

Fontella Chianti

current vintage / 750 ml. | Item#47959

Primary Grape: Sangiovese | All Grapes: Sangiovese

Limited Inventory

6 items or less in stock. We will confirm your order by email.