Meet Thurman Thomas & The Ghost (a.k.a. Patti Thomas)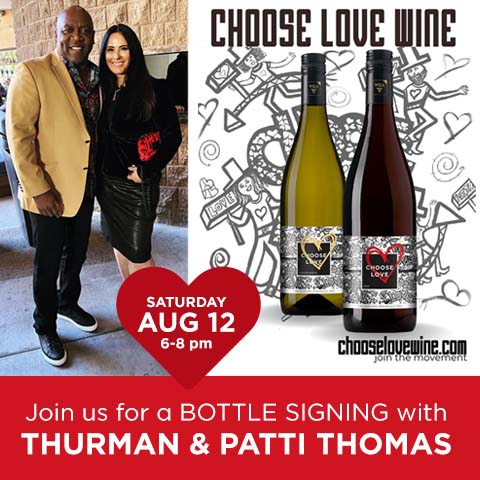 Join us for a special bottle signing with Thurman & Patti Thomas. Choose Love Wine is based on the artwork of The Ghost, aka Patti Thomas, and was created to help fight racial injustice and to give back to the local community. With a goal of bringing people together by standing as one for brotherhood, love and respect, a portion of all proceeds will be donated to charity.
What: Bottle Signing Event with Thurman & Patti Thomas (aka The Ghost)
When: Saturday, August 12, 2023 from 6-8pm
Where: Premium Wine & Spirits, 7980 Transit Road, Williamsville, NY 14221
*Please note, as this event is a fundraiser for charity, only bottles of Choose Love Wine will be signed. No sports memorabilia or other items will be signed.